T5 series Single phase double barrel dust extractor industrial dust removal equipment hot sale
Product Detail
Product Tags
Description of this T5 series Single phase double barrel dust extractor industrial dust removal equipment hot sale
Short Description:2 barrels, integrated with separator for pre-filtering, "TORAY" polyester PTFE coated HEPA filter.
Applies to continuous working condition, small size and large amount dust.
Specially applies to the floor grinding and polishing industry.We are the manufacturer and sales service provider of dust removal equipment hot sale.Our team has a good professional quality and a strong sense of responsibility.Our industrial dust removal equipment low price is exported to many countries around the world and has a good market reputation.We will provide the most suitable product solution according to your requirements.If you would like to know about our dust extractor hot sale sales policy, please click "Send Message" to contact us.
Main features
Three Ametek motors, for controlling the on/off independently.
Continuous drop-down folding bags system, easy and fast loading/unloading.
2 barrels, pre-filter is cyclone separator, filtering more than 98% dust, make fewer dust to enter in vacuum cleaner, prolong the vacuums working time, to protect the filters in vacuum and extend the life time.
PTFE coated HEPA filter, low pressure loss, high filter efficiency
Parameters of this T5 series Single phase double barrel dust extractor industrial dust removal equipment factory
T5 series models and specifications
Model
T502
T502-110V
Voltage
240V 50/60HZ
110V50/60HZ
Power(kw)
3.6
2.4
Vacuum(mbar)
200
200
Airflow(m³/h)
600
485
Noise(dbA)
80
Filter type
HEPA filter "TORAY" polyester
Filter area(cm³)
30000
Filter capacity
0.3μm>99.5%
Filter cleaning
Jet pulse filter cleaning
Motor driven filter cleaning
Dimension inch(mm)
25.7″x40.5″x57.5″/650X1030X1460
Pictures of this wholesale T5 series Single phase double barrel dust extractor industrial dust removal equipment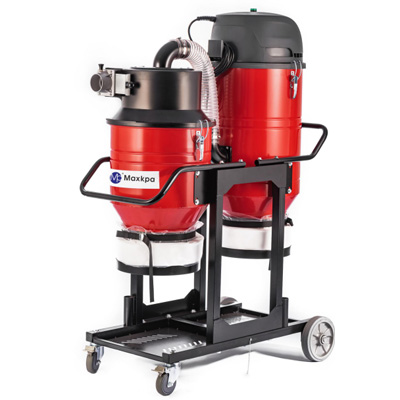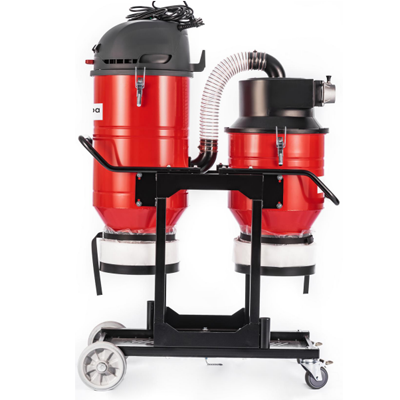 ---
---
Write your message here and send it to us