Walk Behind Electric Floor Sweeper
Product Detail
Product Tags
Description of this Walk Behind Electric Floor Sweeper
Walk behind type sweeper with adjustable speed handle,automatic cleaning,only need to adjust the direction of the artificial hand,sweep width up to 800mm,easy and convenient operation,high cleaning efficiency,low noise,use battery powered,this is a light and efficient application of a wide range of road sweeping machine products.
Product features
1. Adopt the maintenance-free battery as power source, stable operation, low noise, especially suitable for indoor and noise limited environment.
2. The adjustable side brush, with high speed main brush, can greatly improve the cleaning efficiency.
3. Built-in vacuum cleaning system, mechanical sweeping and vacuum suction combined, can effectively reduce the dust generated during cleaning.
4.  This kind of folding dust filter, in a limited volume greatly improve the filter area, can effectively reduce the vacuum dust suction system wind resistance, improve vacuum suction system suction.
Features: the machine can work 5-6 hours continuously, daily work up to 16800 square meters -21800 square meters. Set sweeping, suction in one, no two fugitive dust, no noise,no exhaust emissions, green environmental protection. The utility model has the advantages of small size, flexible steering, easy operation and convenient use. It is suitable for cleaning parks, streets, property areas, warehouses, workshops, schools, stations, airports and other small places. The cleaning efficiency is 6--9 times of the traditional manual cleaning efficiency, and a sweeper can replace the 6-9 cleaning workers.
Parameters of this Walk Behind Electric Floor Sweeper
| | |
| --- | --- |
| Sweeping panths | 900mm |
| Productivity | 5800m3/h |
| Working speed | 0-6km/h |
| Turning radius | 80mm |
| Work power (Motor) | 650W |
| Dustbin capacity | 65L |
| Continuous working time | 6H |
| The shape size | 1300*850*1050 (mm) |
| The battery voltage | 36V |
| Length of main brush | 500mm |
| The side brush diameter | 390mm |
| Vacuum filter area | 4.0m2 |
| Vehicle quality | 108kg |
Pictures of this Walk Behind Electric Floor Sweeper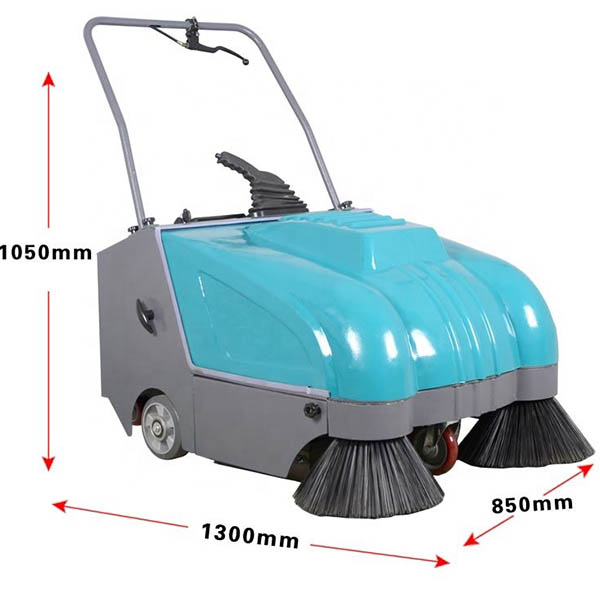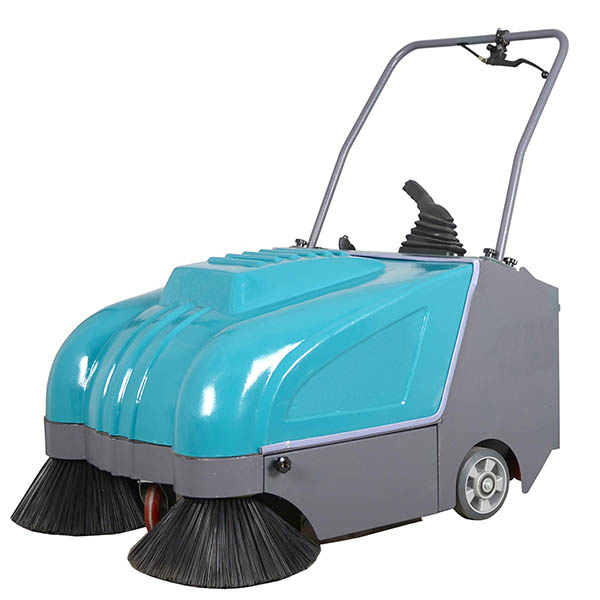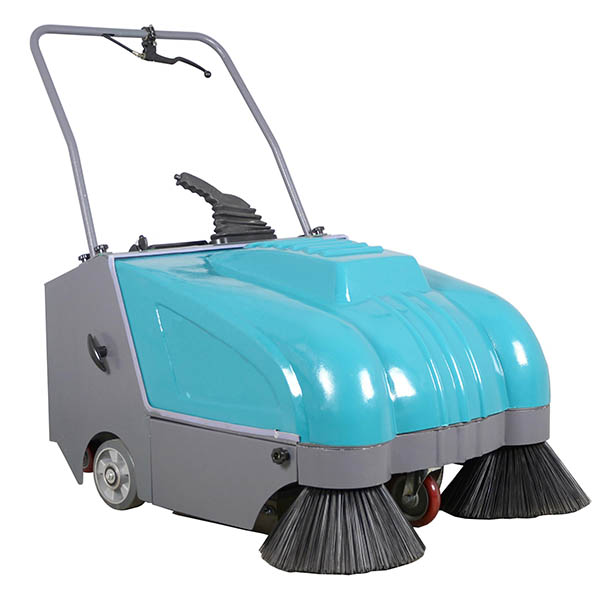 ---
---
Write your message here and send it to us